Sunitinib (Sutent™)
Last Updated: 01/30/20
Status: Currently a NF2 Clinical Trial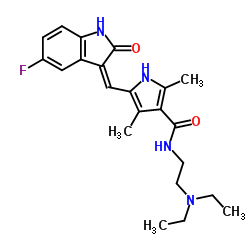 Synomyms:
Sutent, SU-11248, sunitinibum, Sunitinib (INN),
Su-011248, SU11248, SU 11248, CHEBI:38940,
Sunitinib (free base), Sunitinib Malate
Pharmaceutical Company:
Pfizer
Legal Status:
℞ - Prescription
Administered By:
Pill - Oral
Tumor Target:
Intracranial Meningioma
Interactions:
Avoid Grapefruit and Green Tea
Protein Target:
Multi-targeted Receptor RTK Inhibitor
Sunitinib is an oral pill that is in trials for NF2, with expectations of the reduction in size of Meningiomas.
Side effects have been found to be minimal and any severe issues disappear with dose reduction, break in treatment or other treatment.
This is a new NF2 treatment and facts collected are based on use of Sunitinib for other treatments. Sunitinib has been found more effective in situations where Sorafenib (Nexavar), Temsirolimus (Torisel), Interleukin-2 (Proleukin), Everolimus (Afinitor), Bevacizumab (Avastin) and Aldesleukin helped, but they only had minimal effect.
NF2 Related Trials
Available Through: Memorial Sloan-Kettering Cancer Center
1.
Trial Name
Sunitinib in Treating Patients With Recurrent or Unresectable Meningioma, Intracranial Hemangiopericytoma, or Intracranial Hemangioblastoma
ClinicalTrials.gov
NCT00561665
Status
Unknown
Condition
Brain and CNS Tumors
Phase
Phase 2
Collaborator
National Cancer Institute (NCI)
Sponsor
Memorial Sloan-Kettering Cancer Center

---

2.
Trial Name
Phase II Trial of Sunitinib (SU011248) in Patients With Recurrent or Inoperable Meningioma
ClinicalTrials.gov
NCT00589784
Status
Ongoing
Condition
Meningioma
Phase
Phase 2
Sponsors and Collaborators
Dana-Farber Cancer Institute, University of Virginia, University of Pittsburgh and Pfizer
Principal Investigator
Memorial Sloan-Kettering Cancer Center, New York
Treatment Information
Sunitinib is Chemically similar to Imatinib. Imatinib has been used to treat other conditions that did not generally respond to standard chemotherapy or radiation, but while some people did not respond to it, 50% developed a resistance to its effects within 2 years. For those conditions, Sunitinib was started after Imatinib resistance was developed till conclusion was that Sunitinib was simply a more effective treatment. Sunitinib reduced the relative risk of disease progression or death by a considerable percentage.
Treatment Expectations
Size reduction of Meningiomas.
Precautions
Tell your doctor and pharmacist if you are allergic to Imatinib, mannitol, or any other medications.
Tell your doctor and pharmacist what prescription and nonprescription medications, vitamins and nutritional supplements you are taking or plan to take
Tell your doctor and pharmacist what herbal products you are taking, especially St. John's wort. Your doctor will probably tell you not to take St. John's Wort while taking Sunitinib.
Tell your doctor if you have or have ever had a bleeding problem; angina (chest pain); a slow, fast, or irregular heartbeat; a heart attack; heart bypass surgery; heart failure; high blood pressure; pulmonary embolism (PE; blood clot in the lungs); seizures; a stroke or transient ischemic attack (TIA, mini-stroke); or heart, kidney, liver, or thyroid disease.
Tell your doctor if you are pregnant, could be pregnant, or plan to become pregnant. You should not become pregnant while you are taking sunitinib.
Tell your doctor if you are breast-feeding. You should not breast-feed while you are taking sunitinib.
If you are having surgery, including dental surgery, tell the doctor or dentist that you are taking sunitinib.
Sunitinib may cause your skin to turn yellow and your hair to lighten and lose color. This is probably caused by the yellow color of the medication and is not harmful or painful. Your natural skin and hair color will likely return after you stop taking sunitinib.
Sunitinib may cause high blood pressure. Your blood pressure should be checked regularly while you are taking sunitinib.
Do not eat grapefruit, drink grapefruit juice or green tea while taking this medication.
Side Effects
Major side effects are uncommon. Since people with NF2 are taking these medications at a low dose, only minimal side effects would likly happen. However, long term use is primarily where these major side effects take place. Monthly Blood and Urine Tests can usually point to an issue before any issues are a real problem. Talk to your doctor.
Immediately Contact Doctor if you start to experience:
Black And Tarry Stools
Bloody Vomit
Chest Pain
Chills
Coughing Up Pink Or Bloody Mucus
Difficulty Falling Asleep Or Staying Asleep
Fever
Increased Urination, Especially At Night
Rapid, Irregular, or Pounding Heartbeat
Red Blood In Stools
Shortness Of Breath
Stomach Pain Or Swelling
Sudden Severe Back, Stomach, or Leg Pain
Swelling Of The Feet Or Ankles
Swelling, Tenderness, Warmth, or Redness Of A Leg
Unusual Bruising Or Bleeding
Vomit That Looks Like Coffee Grounds
Weight Gain
Additional Possible Side Effects:
Change In The Way Things Taste
Constipation
Depression
Diarrhea, Gas
Dry Mouth, Pain, Irritation, or Burning Sensation of The Lips, Tongue, Mouth or Throat
Dryness, Thickness, Cracking, Or Blistering Of Skin On The Palms Of The Hands And The Soles Of The Feet
Extreme Tiredness
Hair Loss
Heartburn
Loss Of Appetite
Muscle Or Limb Pain
Nausea, Vomiting
Pain, Burning, Numbness, Or Tingling In The Hands Or Feet
Rash
Slow Speech
Thin, Brittle Fingernails Or Hair
Unusual Discomfort In Cold Temperatures
Weakness
Weight Loss
White Patches, Sores On The Lips, or In The Mouth And Throat
Other Uses Patents
Treatment for
Gastrointestinal Stomach Tumors - GIST; a type of tumor that grows in the stomach, intestine (bowel), or esophagus (tube that connects the throat with the stomach, in people with tumors that were not treated successfully with Imatinib (Gleevec) or people who cannot take Imatinib.
Advanced Renal Cell Carcinoma (RCC) - a type of Cancer that begins in the cells of the kidneys).
Patents
Top 5 of 101 Treatments
| | | |
| --- | --- | --- |
| Patent # | Date | Title |
| US20090118240A1 | 07-02-2012 | LOCAL TREATMENT OF NEUROFIBROMAS LOCAL TREATMENT OF NEUROFIBROMAS |
| US20090318525A1 | 04-09-2012 | Process For Preparing A 3-Pyrrole Substituted 2-Indolinone Malate Salt Process For Preparing A 3-Pyrrole Substituted 2-Indolinone Malate Salt |
| US20100143946A1 | 04-02-2012 | ALPHA-SYNUCLEIN KINASE ALPHA-SYNUCLEIN KINASE |
| US20120029046A1 | 02-01-2012 | CRYSTALLINE FORM OF SUNITINIB AND PROCESSES FOR ITS PREPARATION |
| US20110306647A1 | 12-14-2011 | NOVEL POLYMORPHS OF SUNITINIB MALATE |