Imatinib (Gleevec™)
Last Updated: 01/30/20
Status: Currently a NF2 Clinical Trial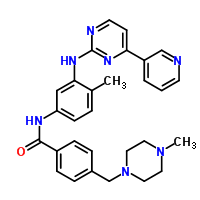 Pharmaceutical Company:
Novartis
Administered By:
Pill - Oral
Tumor Target:
Vestibular Schwannoma
Protein Target:
Tyrosine Kinase Inhibitor
Special Precautions
Tell your doctor and pharmacist if you are allergic to imatinib or any other medications
Tell your doctor and pharmacist what prescription and nonprescription medications, vitamins, and nutritional supplements you are taking or plan to take.
Tell your doctor what herbal products you are taking, especially St. John's wort.
Tell your doctor if you have or have ever had high blood pressure; a heart attack; an irregular heartbeat; diabetes; or heart, lung, thyroid, or liver disease. Also tell your doctor if you smoke, if you use street drugs, and if you drink or have ever drunk large amounts of alcohol.
Tell your doctor if you are pregnant or plan to become pregnant. You should not become pregnant while you are taking Imatinib.
Tell your doctor if you are breast-feeding. You should not breast-feed while you are taking Imatinib.
Talk to your doctor about what you should do if you develop diarrhea during your treatment. Do not take any medications to treat diarrhea without talking to your doctor.
Trials
Pilot Study of Gleevec/Imatinib Mesylate (STI-571, NSC 716051) in Neurofibromatosis (NF1) Patient With Plexiform Neurofibromas (0908-09) - www.ClinicalTrials.gov
Glivec/Gleevec Pediatric (Age 1 to Less Than 4) PK Study in CML, Ph+ ALL Patients and Other Glivec/Gleevec Indicated Hematological Disorders. - www.ClinicalTrials.gov
Other Known Uses
Chronic Myelogenous Leukemia (CML)
Gastrointestinal Stromal Tumors (GISTs)
Systemic Mastocytosis
Hypereosinophilic Syndrome
Dermatofibrosarcoma Protuberans
For treatment of Progressive Plexiform Neurofibromas associated with Neurofibromatosis Type I, early research has shown potential for using the c-kit tyrosine kinase blocking properties of Imatinib.
Side Effects
Minor
Anxiety
Constipation
Depression
Diarrhea
Gas
Indigestion
Joint Pain
Loss Of Appetite
Muscle Cramps
Nausea
Night Sweats
Teary Eyes
Vomiting
Serious - Contact doctor
Major side effects are uncommon. Since people with NF2 are taking these medications at a low dose, only minimal side effects are common. However, long term use is primarily where these major side effects take place. Monthly Blood and Urine Tests can usually point to an issue before it's a real problem. Talk to your doctor.
Blood In The Stool
Chest Pain
Coughing Up Pink Or Bloody Mucus
Difficulty Falling Asleep Or Staying Asleep
Dizziness
Excessive Tiredness Or Weakness
Fainting
Fast, Irregular, Or Pounding Heartbeat
Fever
Headache
Increased Urination, Especially At Night
Puffiness Under The Eyes
Rash Or Blisters
Shortness Of Breath
Sore Throat, Fever, Chills, And Other Signs Of Infection
Swelling Of The Hands, Feet, Ankles, Or Lower Legs
Unusual Bruising Or Bleeding
Weight Gain
Yellowing Of The Skin Or Eyes