Vandetanib (Caprelsa™)
Last Updated: 09/15/17
Status: Potential NF2 Clinical Trial
Warning - Dangerous Treatment
Vandetanib (Caprelsa™) has not been in trials specifically for NF2 at this time. Vandetanib was in a trial under the trade name Zactima™ in 2009 for Non-small cell lung cancer. The pharmaceutical company Astrazeneca discontinued Vandetanib under trade name Zactima™ and it is now under the name Caprelsa™ used in the treatment of certain tumors of the thyroid gland.
Zactima™ and Non-small Cell Lung Cancer
Under the name Zactima™, Vandetanib had a high absorption rate and any excess would leave the body unchanged in the form of feces or urine, which is uncommon and something more oral treatments need to do. However while effective as a treatment, in the initial clinical trials a heart condition easily developed, prolonged QT interval. As a result of the side effects only three months after the trial started and several months earlier than trial expected to end, treatment discontinued listed as unfavorable benefit-risk balance.
Caprelsa™ and Thyroid Gland Tumors
More recently Vandetanib has been reintroduced under the name Caprelsa™ in the treatment of certain types of thyroid gland tumors.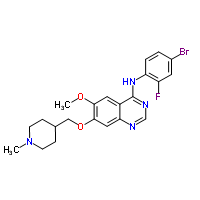 | | |
| --- | --- |
| Trade Name | Caprelsa™ and Zactima™ |
| Other Names | Vandetanib, Zactima, ZD6474, 443913-73-3, ZD-6474, 2ivu, ||Zactima, Vandetanib [INN], ZD 6474, S1046_Selleck |
| Pharmaceutical Company | Astrazeneca |
| Prescription Information | DailyMed |
| Treatment By | Pill - Oral |
| Expectation | Size reduction of Meningiomas |
| Inhibitor | tyrosine kinase inhibitor |
| | vascular endothelial growth factor receptor (VEGFR), the epidermal growth factor receptor (EGFR), and the RET-tyrosine kinase |
| Molecular Formula | C22H27FN4O2 |
| IUPAC | N-(4-Bromo-2-fluorophenyl)-6-methoxy-7-[(1-methyl-4-piperidinyl)methoxy]-4-quinazolinamine |
| ChemSpider | 2338979 |
| PubChem | CID 3081361 |