Nilotinib (Tasigna™)
Last Updated: 09/27/18
Ended: Trial Resulted in Death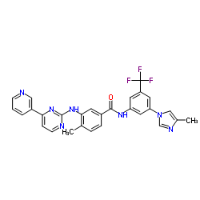 Trade Name:
Tasigna™
Synonym:
AMN107
Legal Status:
℞ - Prescription Only
Administered By:
Pill - Oral
Tumor Target:
Intracranial Schwannoma
Protein Target:
TKI Inhibitors
Formula:
C28H22F3N7O
IUPAC
4-methyl-N-[3-(4-methyl-1H-imidazol-1-yl)- 5-(trifluoromethyl)
phenyl]-3- [(4-pyridin-3-ylpyrimidin-2-yl) amino]benzamide
NF2 Trials:
Terminated: NCT01201538
ChemSpider
559260
PubChem
CID 644241
Special Precautions
Do not eat grapefruit, drink grapefruit juice, or take any supplement containing grapefruit extract while taking this medication.
Tell your doctor and pharmacist if you are allergic to nilotinib or any other medications.
Tell your doctor and pharmacist what other prescription and nonprescription medications, vitamins, and nutritional supplements you are taking or plan to take. Be sure to mention the medications listed in the IMPORTANT WARNING section.
Tell your doctor what herbal products you are taking, especially St. John's wort.
Tell your doctor if you have or have ever had any heart problems, pancreatitis (swelling of the pancreas, a gland behind the stomach that produces substances to help with digestion), or any condition that makes it difficult for you to digest lactose (milk sugar) or other sugars.
Tell your doctor if you are pregnant or plan to become pregnant. You should not become pregnant while you are taking nilotinib.
Tell your doctor if you are breast-feeding. You should not breast-feed while you are taking nilotinib.
If you are having surgery, including dental surgery, tell the doctor or dentist that you are taking nilotinib
Trials
Side Effects
Minor
Back, Bone, Joint, Limb, Or Muscle Pain
Constipation
Diarrhea
Difficulty Falling Asleep Or Staying Asleep
Dizziness
Dry Or Reddened Skin
Gas
Hair Loss
Headache
Heartburn
Itching
Loss Of Appetite
Muscle Cramps
Nausea
Night Sweats
Numbness, Burning, Or Tingling In The Hands Or Feet
Rash
Tiredness
Vomiting
Serious - Contact doctor if you experience any of the following:
Major side effects are uncommon. Since people with NF2 are taking these medications at a low dose, only minimal side effects are common. However, long term use is primarily where these major side effects take place. Monthly Blood and Urine Tests can usually point to an issue before it's a real problem. Talk to your doctor.
Unexplained Bleeding Or Bruising
Blood In Urine Or Stool
Unexplained Weakness
Fever, Sore Throat, Chills, Or Other Signs Of Infection
Shortness Of Breath
Swelling Of Hands, Ankles, Feet, Or Face
Sudden Stomach Area Pain
Yellowing Of The Skin And Eyes
The Drug Carries A Black Box Warning For Possible Heart Complications
Other Known Uses
TASIGNA is a prescription medicine used to treat a type of leukemia called Philadelphia chromosome positive chronic myeloid leukemia (Ph+ CML) in adults who:

Are newly diagnosed with Ph+ CML in chronic phase (CP). The study is ongoing and further data will be required to determine long-term outcomes
Are in chronic phase (CP) or accelerated phase (AP) Ph+ CML and are resistant or intolerant to prior therapy that included imatinib

It is not known if TASIGNA is safe or effective in children.
Back to Top