Crizotinib (Xalkori®)
Status: Available in 2019 for NF2 in the United States and Canada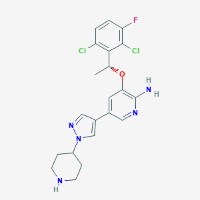 Chemical Compound:
Crizotinib
Pharmaceutical Company:
Pfizer
Legal Status:
℞ - Prescription
Administered By:
Pill - Oral
Protein Target:
FAK1 (PTK2) Inhibitor
Helpful Facts
In trials for: Breast Cancer, solid tumor cancer
Solubility: Soluble in DMSO, not in water. Dimethyl Sulfoxide (DMSO) is an organosulfur compound with the formula (CH3)2SO.
Mammalian target of rapamycin (mTOR) serine/threonine kinase (dual mTOR Complex 1 and 2 inhibitor, mTORC1 and mTORC2)
Inhibitor: inhibits the membrane receptor MET and activation of the MET signaling pathway
C21H22Cl2FN5O
Side Effects
upper respiratory infection,
nausea,
vomiting
stomach pain,
decreased appetite,
insomnia,
dizziness,
tired feeling,
diarrhea,
constipation,
rash or itching,
cold symptoms (stuffy nos
swelling in hands or feet.
Tell your doctor if you have serious side effects of Xalkori including:
severe dizziness, fainting, fast or pounding heartbeats;
vision problems such as blurred vision, increased sensitivity of your eyes to light, or seeing flashes of light or "floaters";
chest pain, dry cough or cough with mucus, wheezing, shortness of breath;
easy bruising, unusual bleeding, purple or red pinpoint spots under your skin;
fever, chills, body aches, flu symptoms, sores in your mouth and throat;
loss of appetite, dark urine, clay-colored stools, or jaundice (yellowing of the skin or eyes).
Sources