Boswellia
Last Updated: 03/28/17
(5LOX Inhibitor with ApresFlex™)
Table of Contents
Product Link
Classification
Method
Other Similar Drug Options
Also Used For
Studies
Side Effects - Warning and Suggestions
Prescription Conflicts
Reference Sources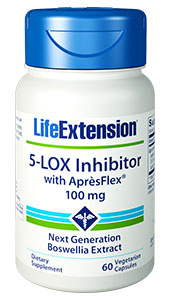 Life Extension - Boswellia 5LOX Inhibitor
There is no financial profit to NF2 Information and Services, for sharing information from this product or source.
Boswellia, also known as Indian Frankincense, is an extract from the Boswellia Serrata tree. It is a family of medicine plants grown and used in India, Africa, China, and the Middle East.
Boswellia is a known effective anti-inflammatory. The most effective forms of Boswellia contains high concentration of ABKA (Acetyl Keto β Boswellic Acid), and LOX 5-LOXIN, also know as 5-LO, 5-LOX or 5-lipoxygenase. Boswellia has been used to treat inflammation causing illnesses for thousands of years. Structure: C30H48O3
2. Classification: Anti-inflammatory - Similar to Prednisone
3. Method
5-LOX itself, creates Leukotrienes that promote conditions such as Cancer, Asthma, Atherosclerosis and other disease processes. 5-LOXIN, which blocks the 5-lipoxygenase (5-LOX) Enzyme, is a dangerous inflammatory enzyme.
4. Other Similar Drug Options
5-LOXIN is found to be safer then NSAIDs (Nonsteroidal Anti-inflammatory) Drugs such as Ibuprofen and Aspirin. While NSAIDs are good for immediate pain relief they can not be taken long term. Long term NSAIDs also inhibit the COX-enzyme, which are harmful to the stomach. Issues would include stomach irritation, bleeding, kidney toxicity, and / or peptie ulcers.
5. Also Used For
While more studies are underway, 5-LOXIN has had some study results indicating that it is effective in issues as severe as Heart Disease, Breast Cancer, Leukemia, Meningioma cells, and other possible tumors and Cancer types. Research suggests 5-LOXIN has advantages over Chemotherapy. Boswellia is otherwise used as a treatment for the following:
Osteoarthritis
Rheumatoid Arthritis (RA)
Asthma
Inflammatory Bowel Disease
Pain Management
6. Studies
In an encouraging recent study of 5-LOXIN, where cell tracking techniques were utilized, proved that tumor cells lost their ability to metastasize and resulted in cell death in the same cells, by way of Apoptosis.
For NF2 (Neurofibromatosis Type 2), research is already underway of Boswellia, in Ohio State University under Dr. Welling. More information on that can be found in the Transcript of Rachelle Swafford's Memorial and Brad Welling, MD, PhD Presentation at the Ohio Gathering
7. Side Effects - Warning and Suggestions
Bostwllia / 5-LOXIN, is safe and well tolerated with no noted side effects listed in documentation. However, as a form of steroids, this might be an issue and surgery will then be necessary. Make sure your doctor knows you are taking this and at what dose.
8. Prescription Conflicts
It is important to check conflicts there might be with other prescription medication you might be taking. If the doctor prescribing your other medications is not familiar with Bosweilla, you might want to ask about conflicts there might be with Prednisone since it is the closest medication to compare it to.
9. Reference Sources